Make, Bake, Sew, Grow
Tales From a Happy House
had a wonderful plan that she has continued with since 2015, and what I'd like to incorporate, at least for today. It's called
Make, Bake, Sew, Grow
. Lovely little rhyme!
You can find her original post
HERE
.
My take is going to consist of the following:
Make: anything I make, non-food and non-yarn related.
Bake: anything I cook or bake, and remember to take a picture of before eating!
Sew: current projects, a lot of knitting and crochet photos I take for Instagram, and hopefully we'll see some sewing and cross stitch/embroidery.
Grow: anything growing.
~
~ Make ~
I've been using a system similar to a bullet journal in my current "page-a-day" Moleskine, but I just didn't have enough room. Then I found an
article
on Buzzfeed that talks about using a bullet journal (bujo) to track your monthly habits and moods, plus I could use a charted migraine tracker. I decided on graph paper composition books and made a new bujo and tracking system.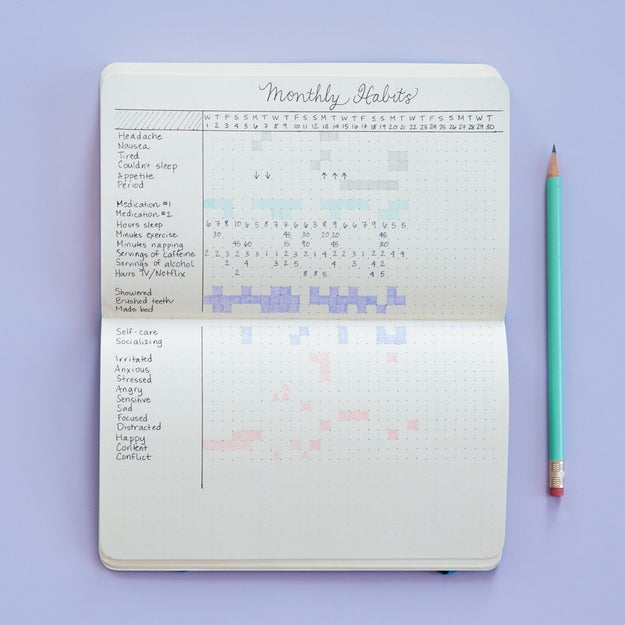 (c) Taylor Miller / Buzzfeed
My monthly mental health habits and moods and tracked in a chart similar to the one above. (I don't want to post my own because I've already started filling out November, and it can get Personal.)
I also have a monthly, weekly, and daily spread, as well as a tracker for blogging and other things. So far it's helped me stay on track, especially with taking my medications. And it gives me a chance to be artsy and play around with my collection of gel pens, washi tape, and stencils.
~ Bake ~
Halloween was Monday, and to celebrate I made
pumpkin cookies
:
They still need to be frosted (brown sugar frosting), so I haven't tasted them yet, but they smell divine!
~ Sew ~
Progress slowly goes on Christmas presents.
~ Grow ~
Autumn is my favorite season.